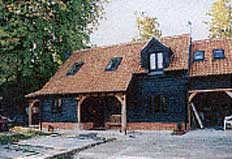 "The Lodge"
Our office at Bardwell
Our watchwords...
Responsiveness to individual needs.
Personal attention to every job.
Direct access for each customer to the directors.
Flexibility and versatility.
Skills which have matured over years of experience.
These are facts which speak for themselves: in the competitive market of vehicle conversion hundreds of customers regard Inter UK as 'the preferred converter'.
Centrally based within East Anglia, Inter UK has rapidly expanded since its foundation in the early 1990's.
Key employers locally, we have a specialist workforce which is skilled in chassis conversion and the fitment of additional axles. Inter UK is also a sought-after provider of specialised bodywork, parts and of ancillary equipment, including toolboxes, exhaust systems and fuel tanks.
Inter UK's pole position on the vehicle conversion grid and our continuing popularity with clients big and small, is based on the combination of traditional values with a modern outlook.


At Inter UK we use our expertise in converting vehicles, whether owner-driver, distributor or multi-national enterprises.
One of our primary specialities is the fitting of supplementary axles (mid-lift, rear-lift or self-steering) to trucks, which is of environmental significance. Not only can we give older vehicles many more years of viable life, but the addition of extra axles will help preserve the existing highway infrastructure.
We at Inter UK make it our watchword to give top care and expertise, putting our customers' vehicles and our own business on the road to success.
14 ton Self Steer, Lifting Mid-axle with Twin Wheels

Twin Steer, Rear Steer Mid-lift Rigid